10 tips for fire doors in flats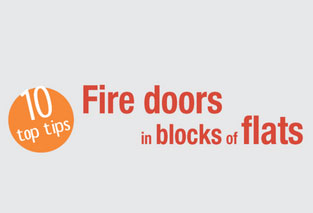 The practical guidance has been launched during Fire Door Safety Week 2017 by the BWF-Certifire Scheme* in the wake of worrying research that shows 65% of tenants in flats and apartments renting privately have not had any fire safety reassurance from their landlord since the Grenfell Tower fire.
Unsurprisingly, a quarter of tenants renting privately feel more anxious about living in their home since the Grenfell Tower fire, and 28% of them do not trust their landlord to understand and implement all the necessary fire safety measures in their building, including 8% who do not trust them due to something they have specifically witnessed while renting.
Other research indicates that certain types of HMOs present significantly greater health and safety risks to tenants than comparable single occupancy dwellings. Risk assessments carried out by ENTEC on fire safety in HMOs concluded that in all houses converted into bedsits, the annual risk of death per person is 1 in 50,000 (six times higher than in comparable single occupancy houses). In the case of bedsit houses comprising three or more storeys the risk is 1 in 18,600 (16 times higher than in comparable single occupancy houses).
The '10 Top Tips for Fire Doors in Flats' is a one page infographic, full of advice on how fire doors work, where you can find them in a building, and the key things to look out for that could give an early warning of fire safety failings in a block of apartments or a converted house.